About
HOSTETLER LAWN & LANDSCAPING was started by my father in 1957 with a Ford backhoe and a 1952 Chevy pick-up. The size and amount of our equipment has dramatically changed over the past 58 years but our personal approach and commitment to excellence remains the same.
We specialize in the design/build installation of new sports fields; the renovation or reconditioning of existing sports fields; site excavation work; and turf seeding. We have the expertise and experience needed to take a job from conception to completion. What sets HOSTETLER LAWN & LANDSCAPING apart is our years of practical experience which we combine with the latest in technology and our custom designed equipment built specifically for the construction and renovation of sports fields. Our customized equipment includes:
4000 gallon tank hydro-seeder
16' laser automated leveler for large areas
Zero turn 5' laser automated leveler for finishing small areas such as home plate and skin baselines
Slit trenching automated machine for injecting sock drainage tile into the ground to exact grade elevations
Proprietary custom designed and built automated grading track machine/system for surface grading to within an unmatched 1 mm accuracy
What also sets us apart is the quality of our workmanship and the material we use in the construction or renovation of athletic fields. We use an all natural unaltered sandy loam topsoil for top-dressing, new construction and renovations. Our athletic turf seed mixture is blended specifically for sports fields. Its wear tolerance is excellent, it retains its lush dark green color even in unpredicatable weather condtions, and is affordable to maintain. The "infield mix" we use in the new construction or reconditioning of skin infields is produced in our own quarry and is called Ball Mix. This reddish brown product is a blended and screened formula of sand, clay and silt. It is derived entirely from all natural material and has NO man-made crushed content. This formula provides excellent drainage while still maintaining a uniformity which can be easily groomed to the desired consistency. For over 30 years Ball Mix has been used with great success on the skin infields and warning tracks of colleges, schools, park departments, and Little Leagues throughout Indiana, Michigan, Illinois, and Ohio. We have also used this same product on tennis courts, horse tracks, equestrian riding arenas, and RC race tracks with equally great results.
We are intentionally a small "hands-on" company. My son Landon Hostetler designs, builds and operates all of our specialty equipment. With over 20 years experience he is highly skilled in all areas of site development. I personally handle all finish details. You can be confident that all aspects of your project will be overseen and personally handled by an owner of our business. Because we have a "hands-on" approach in all areas of athletic field construction we have developed a good understanding of how to Design Build Sports Fields. With our expertise and years of experience we can simplify the complicated process, control costs, and walk you through all the stages of sports field development or renovation. From the early planning stages, site evaluations, cost projections and field design for proper grade and layout; to the site work, installation of infrastructure, field construction or renovation and final completion; we can design/build your field of dreams from the ground up.
We take great pride in the solid reputation and long-lasting relationships we have built with our clients over the years. We are committed to quality, excellence, and personal service. Our name is on the line. We are not satisified until we have met and exceeded your expectations.
We look forward to the opportunity of assisting you in Building YOUR Field of Dreams.
Ron Hostetler
While we honor our past we are also preparing for the future… the 4th generation is now "in training"!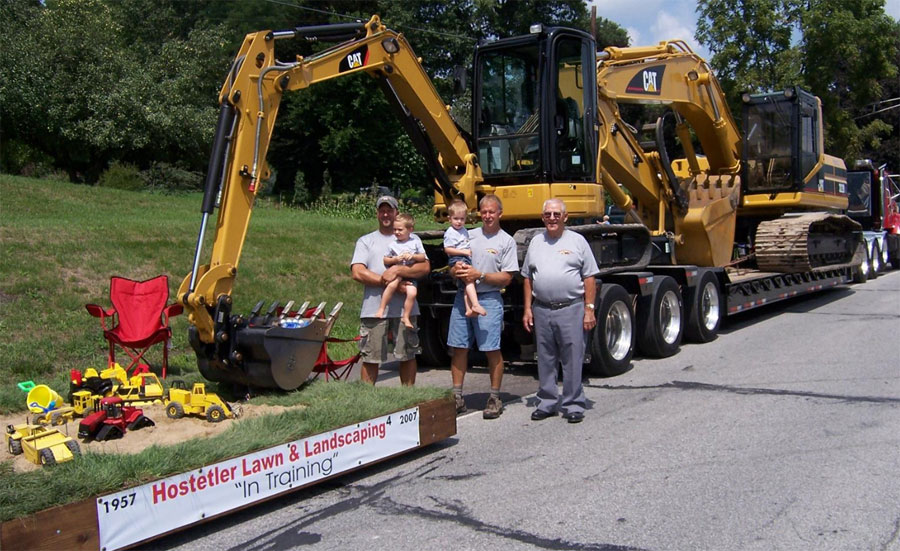 Middlebury Summer Festival Parade - 2007
Mission Statement
To use our abilities and knowledge in keeping with our values by providing services to our customers with honesty, respect, and integrity, while striving to fulfill their goals and exceed their expectations with our products, objectives, and actions.
Vision Statement
To steward our abilities, skills, talents, and resources in a way that honors God and His teachings while maintaining Hostetler Lawn & Landscaping, Inc. as a functionally sound and financially strong business which honors and preserves the principles and values upon which it was founded.
Value Statement
Our mission, goals, and ideals are based upon God's Holy Word. We recognize that without God we are nothing. Therefore, our faith, hope, and dependence is upon the Lord. God is the Chief Executive Officer and the sole owner of the keys to this business.